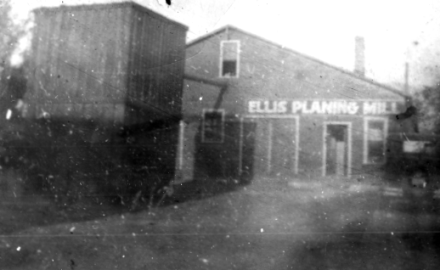 The Ellis Planing Mill was founded by John G. Ellis in 1904. It was first located on lower 24th Street near the foot of the present-day railroad viaduct, which had not yet been built.
An electric street car motor using direct current electricity provided power for the machinery through a central, ceiling-mounted shaft that drove leather belts attached to each machine. Alternating current electricity was not available at the time. A steam engine powered equipment in a secondary building. In 1912, after a fire at the nearby Oregon Lumber Company, the Mill was relocated to its present location at 2658 Wall Avenue—a plot of land owned by the Ellis family since 1856.
The Mill produced all kinds of woodwork, including cabinets, mantles, sash, doors, mouldings, flooring, and other finishing items that at the time were not available at lumber yards. Many of Ogden's oldest homes and buildings still contain examples of woodwork dating back to the earliest days of the Mill.
Five generations later, Ralph Ellis and two of his sons, Tyler and Michael Ellis own and operate the Mill. Surprisingly, our range of work is much the same as it was 114 years ago, although we've made a few upgrades along the way.
We are now one of the only local mills that can replicate old-style woodwork, including window sash and mortise and tenon jointery (in many cases using orignal machinery). At the same time, we are outfitted to take on the most demanding, large-scale jobs using our state-of-the-art moulder and profile knife grinding equipment. We take pride in our ability to accept all kinds of work from the smallest repair job to very large orders for tens of thousands of feet of moulding.
Our versatility allows us to make almost anything in wood.